In cooperation with the Trumann Industrial Development Commission, the Chamber works on business retention and expansion, as well as recruiting new business and industry to the community. We have numerous successes over the years resulting in 18 industries/manufacturing facilities in our community. Additionally, we have a respectable history of industrial development over the past century. Our retail business district is also vibrant and sustained as is demonstrated by our list of members.
We can help you acquire staff. We have relationships with Arkansas State University's main campus (Jonesboro), ASU Newport, ASU Newport – Marked Tree, ASU-West Memphis, Black River Technical College in Pocahontas, Arkansas Northeastern (Blytheville), and other member institutions of the Arkansas Association of Colleges and Employers. Our experience includes many years of hosting job fairs for industry and businesses. Additionally, we work with the aforementioned institutions to train a qualified workforce for current and future employment demands.
We can help you find space. We have an industrial park with an industrial building and shovel-ready green space. Utilities include not only electricity, natural gas, water, and sewer but also fiber-optic access to the Internet and telecommunications. Our park has state highway access, adjoins rail, and is less than 3 miles to I-555. We have options on other nearby green space acreage. Under an agreement with and assistance from the Arkansas Economic Development Commission (AEDC), the Chamber lists and maintains information on commercial/industrial buildings and sites in and around Trumann on Arkansas Site Selection.
We can help you acquire incentives. AEDC also offers incentives for industry expansion or location into the state. Additionally, we have local industrial development incentives available through a Re-use Plan.
We can help your organization engage through networking. Our Manufacturers and Producers Advisory Council (MPAC) and Merchants Advisory Council (MAC) engages local industry and business leaders in chamber committees dedicated to focusing on their specific needs. We conduct research regularly to gauge the business climate and identify needs for those involved so training and resources can be implemented to address those needs.
Recent ccomplishments: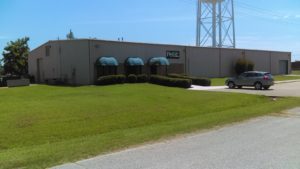 In 2020, Gambill Home Furnishings purchased the former Price Chopper building and moved its assembly plant to Trumann. The chamber, and TIDC, were instrumental in helping Gambill's get economic development incentives from the state. Twenty-five jobs were brought to town through this initiative.
In 2019, Wicked Head Brewing purchased the old Maxie Theater and are renovating it to become a micro-brewery and restaurant. TIDC incentivized this initiative that will manufacture craft beer in our city and projects to employ approximately 10 staff upon opening.
In 2017, we drafted and received a $218,000 grant from the Delta Regional Authority to help a new industry, Rage Fabrications, expand and develop in our community. Ten jobs were created through this initiative in the first year.
In 2017, we drafted and received a $218,000 grant from the Delta Regional Authority to help a new industry, Rage Fabrications, expand and develop in our community. Ten jobs were created through this initiative in the first year.
History of accomplishments:
Other economic development or business retention initiatives included Ashley Lighting, Roach Manufacturing, The Bilco Company, Columbia Forest Products, the Box Shop, Lectri-Flo, McWell Manufacturing, Delta Wood Products, Arbor Products, Trumann Machine Works, Delta Industrial Products, Town & Country Industrial Supply, Parker Hannifin, and Winfield United. Well over a thousand jobs have been created by these incentivized initiatives through TIDC.
The Chamber championed the concept and was instrumental in advocating for a utility extension under I-555 (completed in December 2016) that serves the western region of our city's developing commercial district.

Following 5+ years of collaborative efforts led by the Chamber, $4,000,000 from Congress was appropriated to the Memphis District of the Corps of Engineers to make repairs (2016) to the St. Francis River southeast of Trumann. This initiative restored water control and subsequently provided access to the river for tourists, sportsmen and recreational enthusiasts while improving the region's economic development.