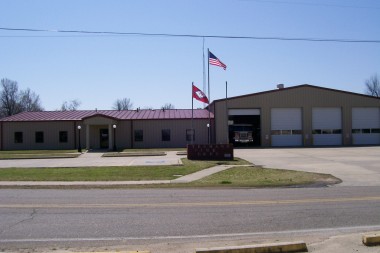 Trumann Fire Department
801 W Main St, Trumann, AR 72472
(870) 483-2312
Fire Protection:

Trumann Fire Department
Insurance ISO Rating:
Class 3
Fire Chief:
Revis Kemper; (870) 483-2312
Station: 801 W Main St, Trumann, AR 72472
email: tfd1@rittermail.com
Distance to station:
TFD covers 2.5 mile radius for residential
Estimated response time:
2.5 minutes
Impediments:
None
Describe capabilities:
STAFF:
Career and Volunteer Firefighters: 20 personnel
Career: 1 Chief, 1 Assistant Chief, 3 Driver Operators, 1 Firefighter
Volunteer: 2 Captain, 3 Lieutenant, 1 Chaplin, 8 Firefighters
FIRE PROTECTION:
24 hrs/day; 7 days/week; 365 days/year
TRAINING: CAREER FIREFIGHTERS
Certified by Arkansas Fire Academy Specialized training in First Responder,
Hazard Material Operations, Disaster/Recovery Operations,
Storm Warning Training, Natural Disasters, and Bio-Terrorism.

VOLUNTEER FIREFIGHTERS
Introduction to Firefighting, Protective Equipment, Wildland Fires
Structure Fires Basic and Advanced, PPV Ventilation, First Responder,
Natural Disasters, Storm Warning Training and Hazard Material Awareness/Operations.
CAREER AND VOLUNTEER FIREFIGHTERS ADDITIONAL TRAINING
24 Hours/Year continued Hazard Material education training
EMT's 24 hours/year continued education
ISO RATING REQUIRES
20 hours/month company training, 12 hours/year
Officer training,12 hours/year Driver/operator training, 24 hours/year multiple company training, and 6 hours night training.
This training is required for Trumann Fire Department to receive ACT 833 money for equipment purchases.
In addition, the TFD has to acquire 16 hours/year of approved training through Arkansas Fire Academy.
EQUIPMENT:
4 Engine Pumpers, 1 Ladder Truck Pumper, 1 Rescue Truck w/ mini-pumper, 1 Brush Truck, 1 UTV w/tank, 1 Search & Rescue Boat.
Specialized equipment: Thermal Imaging Cameras, Fire Finders, and RFD Air Pack Finders (Pack Trackers), Diffibulators.
All personnel equipped with protective equipment meeting or exceeding current NAPA standards.
COMMUNICATIONS:
TFD operates on a Tone/Voice Paging system to alert firefighters of any type of emergency.
TFD can page from the central station, the police station, and units or hand-held radios.
TFD is also in charge of the Tornado Warning System for Trumann.
PRE-FIRE PLANNING INSPECTIONS:
TFD conducts pre-fire planning inspections of each commercial, industrial, institutional, and habitational building (over 4-family apartments) at least twice per year.