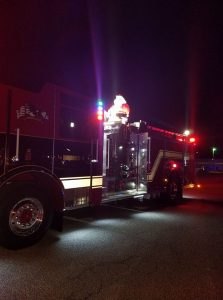 The 2020 annual Christmas Parade will be held on Dec. 10th beginning at 6 PM. This year's theme is "Memorable Christmas Movies." Due to COVID-19, this year there will be NO FLOATS. Antique and classic vehicles, tractors, UTV/ATV's, emergency vehicles, company vehicles, local dignitaries & politicians, Police & Fire vehicles will be allowed. If you have any questions please call Bob Sowell at the Chamber office. Registration is Required.
REGISTRATION IS REQUIRED. If you, or your organization, would like to participate please call the Chamber at(870) 483-5424, or the Trumann Municipal Complex at (870) 483-5355
Spectators – PLEASE PRACTICE SOCIAL DISTANCING.
See rules below regarding participation.
Parade Rules: .
Lineup begins at 5 PM in the parking lot of the TRUMANN RECREATION COMPLEX (on Pecan Grove Road). SEE PARADE ROUTE MAP BELOW
Thank you for participating in our annual Christmas Parade. The Chamber of Commerce appreciates your desire to help us have an enjoyable community event. Please be sure to read and follow all rules below for everyone's safety.
Individuals and organizations in the parade are expected to perform courteously, in good taste, and with safety in mind at all times during the formation, execution, and progression of the parade. No firearms, fireworks, or alcohol allowed by participants in the parade.Vehicular participants in the parade must maintain control of their automobile, float, ATV/UTV, tractor, or motorcycle at all times. Inattentive or reckless driving is prohibited (no spinning of tires or burnouts) – no exceptions (it's the law). Keep at least 50 feet between each participating unit. All local, state and federal driving laws must be observed and will be enforced. Vehicular participants must possess valid driver's license and current liability insurance. Drivers of any type of participating vehicle including ATV/UTV) must be at least 18 years of age. Children participating in the parade must be accompanied by parents or approved organizational sponsors with legal authority and must e pre-approved by parade officials. Throwing candy is allowed, however, to ensure the safety of bystanders, if you choose to throw candy be sure it does not hit bystanders and it makes it to the edge of the road. We do not want children entering the roadway to retrieve candy and become endangered. Horses must be ridden and controlled by their rider/owner at all times. No horse rides may be given. Due to horse droppings, all horses will be last in the parade. All parade participants individually liable for their participation, actions, and consequences. Appropriate liability insurance is recommended for all parade participants. The Chamber of Commerce Parade Committee reserves the right to remove any participant at any time for inappropriate or unsafe actions. Decisions of the chamber parade committee are final. Parade Route:Begin at the Trumann Recreation Complex parking lot, proceeding north on Pecan Grove to Industrial, proceeding east to Balcomane, proceeding south to AR Hwy 69, proceeding east to AR Hwy 463, proceeding south to Melton, proceeding north to AR Hwy 69 (Speedway), proceeding west to AR Hwy 463 and concluding.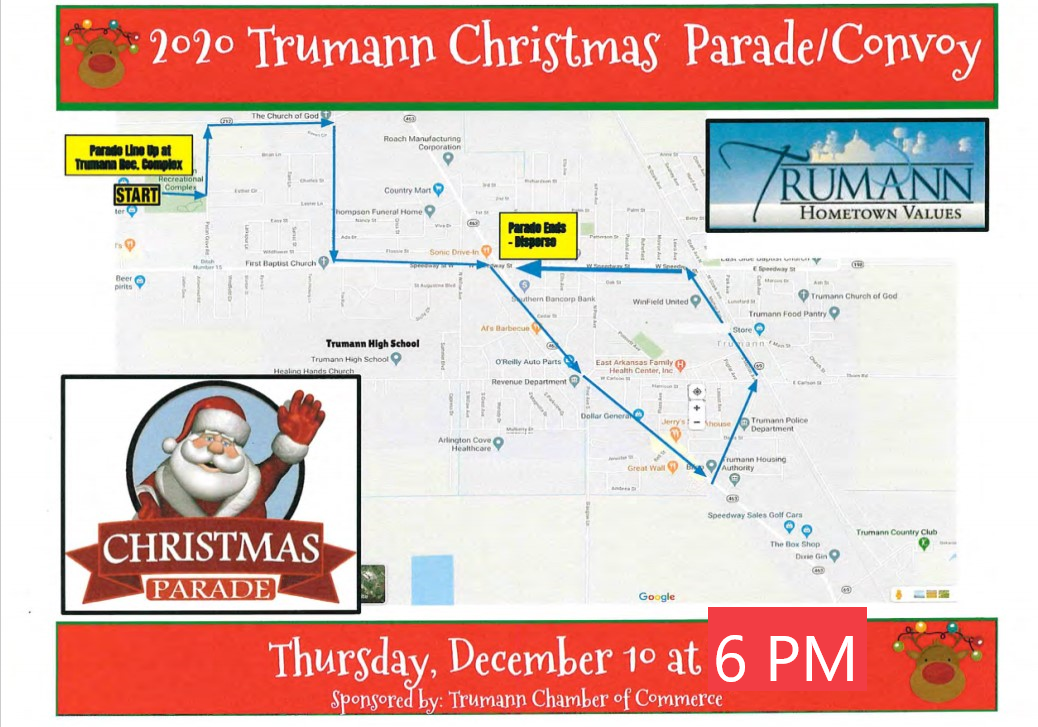 Please observe caution because of the extreme number of pedestrians in the area – and during the entire parade route. Watch for kids running out into the street to get candy.

Parade Participant Lineup:
Lead Vehicle (Police); Pedestrian Participants (Band, ROTC, Etc); Tractors; Motorcycles & ATV/UTVs; Antique Autos; Commercial Vehicles; Politicians & Dignitaries; Ambulances, Police, Firetrucks; Fire Engine with Santa; Concluding Vehicle – (Police).